As you might imagine, commercial buildings have very active drains. More so in larger buildings with several levels, sinks, kitchens, and bathrooms. The drains in these buildings take a beating, and it's no wonder why they eventually clog up and slow down your sewer lines. As the drains do their job day after day for years, the nasty buildup causing the clog can become an expensive problem if it's allowed to fester and grow. For a commercial setting, it's best to hire the team at The Sewer Surgeon. We are professional, master plumbers trained in this type of work.
Thanks to modern plumbing techniques and the latest technology available, commercial hydro-jetting is the technique professionals use for large-scale operations in commercial buildings. This technique involves ultra-high-pressure water sprayed through a specialized nozzle connected to a hydro-jetting machine capable of producing massive water pressure and super-high gallon-per-minute flow rate.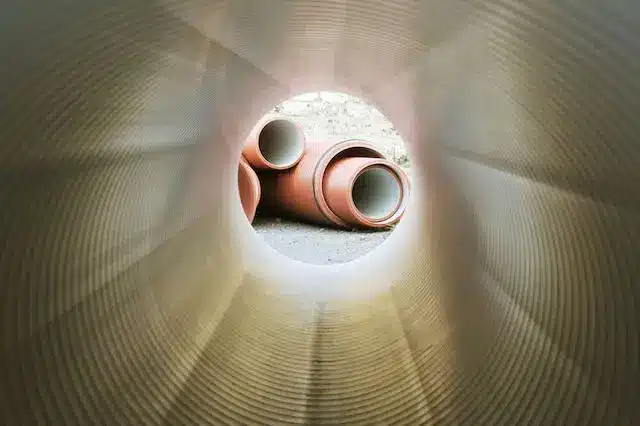 Our master plumbers use a series of nozzles designed for specific uses. Depending on the situation, our expert plumber may need to implement a commercial camera sewer line inspection to reach far into the drain. A visual video camera inspection yields more details and allows the plumber to recommend the best possible solution based on their findings.
Part of the solution might require cutting through tree roots. The high-pressure water that comes from hydro-jetting is designed to eviscerate clogs due to tree roots by cutting through them quickly and safely. There are never any worries about harming the environment with the use of hydro-jetting. Other steps may involve using a reverse thrust nozzle that helps clear sludge from the drain lines, or a different type for descaling purposes. As you can see, sewer and drain cleaning technology have seen significant advances to properly clear drains and clear clogs safely with minimal downtime.
The master plumbers at Sewer Surgeon are ready for any maintenance and repair operation on your commercial building regardless of size or complexity. Our team regularly handles commercial plumbing maintenance and repairs, including drain and sewer line cleaning and repair.
The Benefits of Hydro-Jetting
As modern technology has changed countless industries, hydro-jetting has also changed the plumbing industry. As we mentioned, commercial hydro-jetting technology is the latest in the industry with many benefits. Some of those include:
Drain pipes experience ultra-high-pressure cleaning. Due to the high water pressure, the pipes get cleaned thoroughly during the process and remove the clog and any built-up sludge and other debris.
Hydro-jetting is more efficient than snaking because the water removes all the sludge, tree roots, and remnants of the clog, allowing the drain to stay clear for much longer.
Hydro-jetting is safe for the environment because we use no chemicals to harm you and the world around us, including animals.
Do you remember the smell coming from your drain that you tried everything to remove? With our hydro-jetting service, sour odors emanating from the drain are gone for good, and the bacteria, with it.
Due to the extreme water pressure used, hydro-jetting can reach, and clear clogs buried under your yard that have been sitting there for years.
In the arsenal of tools our team uses, hydro-jetting is among the most powerful in the proverbial tool chest. With their different sizes, strengths, and various nozzles, each designed for a specific purpose, they provide the capability to clear the toughest clogs, including tose caused by tree roots and rocks—all that without damaging your drain pipes.
Commercial Plumbing Maintenance and Repair
Allowing drains to go untouched for years without periodic cleaning, remind you in the worst possible way that they need regular attention. Our team of master plumbers provides professional maintenance and repair to your commercial plumbing system.
A clogged floor drain or overflowing toilet will bring reality to the forefront and force the issue. Fortunately, we're a phone call away and ready to find and solve any plumbing-related problem. Talk to us about scheduling regular drain cleaning to prevent a plumbing disaster, caused by damaged, broken, or sunken pipes.
Why Choose The Sewer Surgeon?
Our 24/7 emergency service is peace-of-mind for our many customers. They know we're here for them, and for you, all day and every day. We know plumbing problems can ruin plans and even close a business in extreme situations. That's why we provide free estimates and welcome 2nd opinions, together with iron-clad parts and a labor guarantee. We're family-owned and operated, licensed, and insured, bringing even more peace of mind because we're here to stay. Our entire team of consummate professional plumbers is friendly. We're polished, talented and always have your best interest at heart.
GET A FREE ESTIMATE
We are more than happy to give advice and make recommendations on which solution is most suitable for your needs. If you need commercial hydro-jetting services, don't hesitate to call for an appointment! We offer free estimates for all plumbing services and include written quotes. At The Sewer Surgeon, we offer competitive pricing all day, every day. Ask about our coupon specials, call us today at (855) 650-7867.
We also offer Residential Hydro-jetting Services.