RESIDENTIAL SEWER REPAIR & REPLACEMENT IN GLENDORA, CA, AND NEARBY AREAS
Like any other plumbing system in your home, your sewer line can benefit from regular maintenance. We recommend scheduling annual maintenance from a plumber in Glendora, CA, or nearby areas so that you can eliminate the need for sewer line repairs or worse sewer line replacement. This is a great way to ensure your sewer lines run smoothly year-round and last longer between repairs.
However, today, sewer line repair or replacement is easier than ever before. The Sewer Surgeon uses the latest technology to pinpoint the exact location of the sewer line leak or clog. Using accurate tunneling methods, we can remove any broken portions to repair a damaged sewer line without the need of digging up your yard. These methods will not only save you time and money but will avoid the mess that is created with old methods.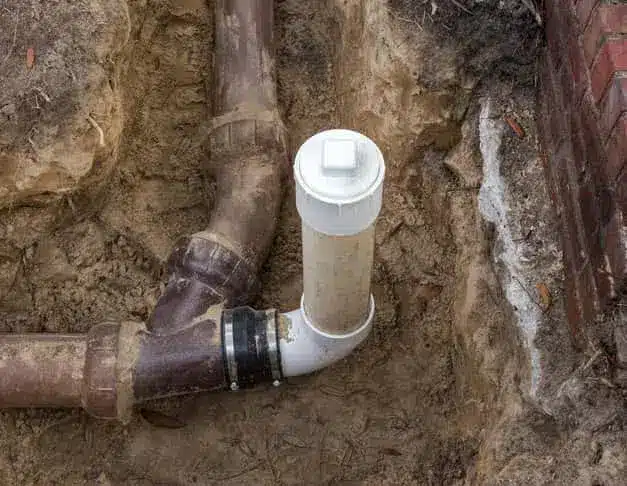 LET'S GET TO THE "ROOT" OF THE PROBLEM
There are a number of ways a sewer line can get damaged, starting with wear and tear and corrosion over time. Damage can come from work completed over the sewer lines, such as repaving a driveway or sidewalk. Vegetation can cause damage, this most commonly results from growing tree roots that can wrap around sewer lines or that can go right through the sewer line itself.
SEWER REPAIR OVER REPLACEMENT
When choosing over residential sewer repair or replacement, we recommend sewer line repair when there are holes or cracks in the line. Residential sewer line replacement is recommended when more severe damage is detected. The Sewer Surgeon may recommend a camera inspection to determine the severity. Another option is to run a sewer line leak test using either a more conventional method or a less costly trenchless repair.
ASSESSING THE DAMAGE
Hiring the right kind of contractor is important to correctly determine the damage and getting the job done right. Whether it's sewer line repair or sewer line replacement, it can be especially difficult to trace issues in older homes. This is where you will benefit from calling a professional at The Sewer Surgeon who can provide you with a free estimate.
The advantage to working with us to either repair or replace your residential sewer line is that The Sewer Surgeon is equipped to diagnose whether you need a sewer line repair or sewer line replacement. We have state-of-the-art equipment to take care of your residential sewer line needs, including camera inspection equipment and pressure test equipment. Once we determine the cause of the sewer line leak or clog, The Sewer Surgeon will show you the results of the tests and recommend a course of action. We serve:
RESIDENTIAL SEWER LINE REPAIR REPLACEMENT
Even the smallest clog or leak in your sewer line can spell trouble. In recent years, advancements in plumbing technology and techniques have allowed us to provide more efficient sewer line repair services for Southern California homeowners. No longer do you need to rely on more costly, messy endeavors. The Sewer Surgeon can get the job done more easily than ever before. We use the latest advanced techniques to diagnose your sewer line problems and decide to repair or replace sewer line.
Remember, as time passes, a clogged sewer line becomes more likely. Typically, clogged sewer lines are caused by humans flushing hygiene products or other large waste deposits. Other causes include tree roots and mineral buildup. These different types of blockages need to be diagnosed carefully in order to correctly handle the situation. The Sewer Surgeon also provides commercial sewer line repair replacement in these other areas:
Los Angeles, CA
Orange County, CA
South Bay, CA
RESIDENTIAL SEWER REPAIR AND REPLACEMENT FAQS
It's not always easy to tell when a sewer line needs to be inspected and repaired. Even so, there are some signs to look for that suggest it's time to give The Sewer Surgeon a call. These include:
Backups and other drain issues affecting multiple household drains
Bad odors noticeable in your indoor spaces
Excessively wet or unusually lush spots on your lawn
GET A FREE ESTIMATE
We are more than happy to give advice and make recommendations on which solution is most suitable for your needs. If you need residential sewer line repair or replacement services, don't hesitate to call for an appointment! We offer free estimates for all plumbing services and include written quotes. At The Sewer Surgeon, we offer competitive pricing all day, every day. Ask about our coupon specials, call us today at (855) 650-7867.
Large commercial sewer line repair or replacement Services are also available at SWE Underground. We provide: