COMMERCIAL SEWER LINE CAMERA INSPECTION
If you're having frequent stubborn clogs at your place of business or commercial property, it may be that your sewer lines are old and maybe in need of maintenance. There are other reasons you may want to request a sewer line camera inspection. If so, it's important to immediately contact a professional plumber to have a commercial sewer line camera inspection. This service can easily identify the cause of clogged sewer lines and help plumbers create a plan to fix the issue as quickly as possible.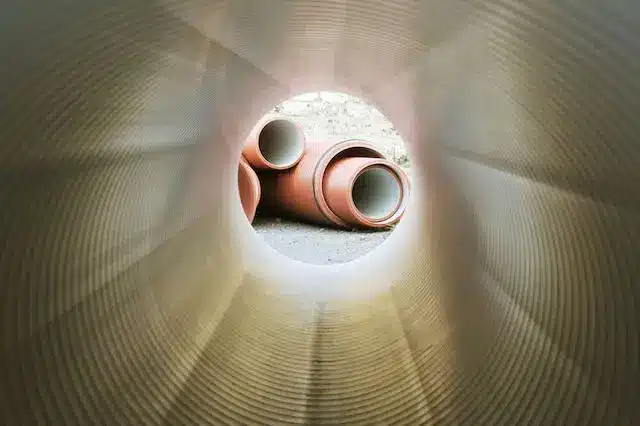 How a Commercial Sewer Line Camera Inspection Works
A special fiber-optic camera is inserted into the sewer line or clogged drain. Our expert plumber will monitor the video feed while the video camera travels from the beginning to the end of the pipe looking for problems such as leaks or obstruction in the sewer line. They could also notice any issues that could potentially cause you problems in the near future. The fiber-optic camera is equipped with an electronic locator. With this technology, plumbers can pinpoint exactly where the source of the clog is from above ground.
The fiber optic video cameras used by our plumbing experts are accurate and allow them to identify the source of the clog. After the source has been detected, the plumber will go over the problem and offer one or more options to remove the clog and/or fix any damaged area(s) of the sewer line through sewer repair.
What are the Benefits of a Sewer Line Camera Inspection?
If you own your own business or are a property manager, you know a problem with your sewer line can upset your entire business. A commercial sewer line camera inspection is a great way to decrease any time loss due to a clogged drain or sewer line because the problem can be identified quickly and our expert plumbers can immediately begin working on a solution to the problem.
Video camera Sewer Line Inspections reduce unnecessary digging and guesswork. The other benefit to using a sewer line camera inspection service to inspect your commercial sewer line and drains is that it reduces the need for costly digging to find problems. It also reduces the guesswork. After the inspection, our expert plumbers can tell you exactly where the problem is. So if digging is needed, they will know exactly where to start so that the digging is limited to the exact area above the damage. Hence, eliminating the need for guessing where the problem may be, lowering cost.
Why Choose Our Team of Plumbing Professionals
We understand plumbing issues and more specifically how to properly perform commercial sewer line camera inspections. The Sewer Surgeon will work quickly to properly repair your sewer lines. We have an entire team of plumbing experts at your disposal, ready to take care of your plumbing needs. We can even schedule an emergency camera line inspection if needed.
Our plumbing team provides fast and reliable plumbing services and prides itself on providing professional service. We will arrive on time for scheduled appointments and as quickly as possible for emergency appointments. We'll work with you to determine exactly what the cause of your slow drain or clog is and determine quickly what the best way is to fix the problem. Call us today to schedule an appointment to inspect your commercial sewer lines.
If you have an emergency, after contacting the Sewer Surgeon, our office staff can schedule an emergency visit by a plumbing professional team member to visit your location and determine if a sewer line camera inspection is needed. Once they arrive, simply point out the location with the clogged drain or sewer line and they will take it from there.
GET A FREE ESTIMATE
We are more than happy to give advice and make recommendations on which solution is most suitable for your needs. If you need commercial sewer line camera inspection services, don't hesitate to call for an appointment! We offer free estimates for all plumbing services and include written quotes. At The Sewer Surgeon, we offer competitive pricing all day, every day. Ask about our coupon specials, call us today at (855) 650-7867.
Large Commercial Sewer Line Camera Inspection Services are also available at Commercial Plumbing Services.