COMMERCIAL SEWER LINE REPAIR AND REPLACEMENT IN GLENDORA, CA, AND NEARBY AREAS
WHAT TO DO WHEN YOU EXPERIENCE SEWER LINE PROBLEMS
Life without sewer line systems is simply unimaginable. Although you may not think about it much, the sewer line is a critical aspect of the overall plumbing system of any building. A sewer line backup can cause major damage to your property, mostly due to flooding. Tree roots can clog sewer lines which can cause a build-up of roots that can potentially destroy your sewer line. However, there are techniques an individual can take to help better maintain their sewer lines.
Regardless of what you think the issue may be, it's not wise to attempt to repair or replace sewer line. You don't want to cause more damage or end up wasting your time. If you think you need a commercial sewer line repair or replacement, call a reliable professional plumber to make the proper repairs. Let's take a look at some of the signs that you need to look out for that may indicate you may need to repair or replace your sewer line.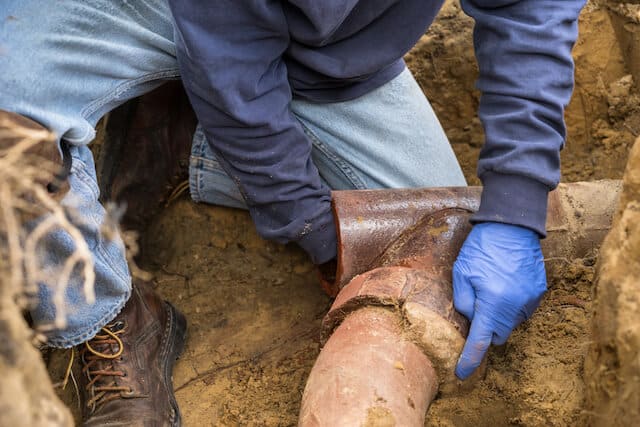 WHEN DO YOU NEED COMMERCIAL SEWER LINE REPAIR OR REPLACEMENT?
Water Backflow
One of the most common signs of a commercial sewer line that requires repairs or replacement is water backflow. When you notice water backing up each time you use the sink or flush the toilet, you should be concerned. This is a problem that can make it uncomfortable for anyone using the facilities. That's why it should be resolved as fast as possible by a commercial sewer line repair or replacement.
Strange Smells
The smell can be musty, resemble mildew, or smell like rotten eggs. Although it is unmistakable in most cases, you have to pay close attention to the foul smells and determine where the smell is coming from. Check around your drains and other areas of your building. A strong smell should usually be enough to give you a reason to contact our team of professional plumbers. Remember that when your sewer line is in great shape, the smells are contained in the line making it difficult to get into your workspace.
Poor Draining
It's normal to have a slow drain; however, you should not ignore the issue just because it's common. It could be more serious than you think, and the only person who can properly ascertain the gravity of the situation is a professional plumber in Glendora, CA, and neighboring areas. Many people have unwittingly damaged other plumbing fixtures by attempting to remove clogs in their sewer lines.
Gurgling Sounds
When no one is using the toilet, it shouldn't make odd noises. If you hear bubbling or gurgling sounds coming from the toilet bowl, then it's likely that you may have a clog that could lead to sewer line repair or replacement if not taken care of. Such sounds are often an indicator that your sewer line is starting to get backed up. When the water runs into a clog in the line, it is forced back into the toilet. This creates air bubbles that flow alongside the water, and they end up displacing the water in your bowl. As you can imagine, this is not a problem you should leave ignore. It can cause a serious sewer line problem in the building.
Walls Have Mold
You should consider seeking sewer pipe line repair and replacement services if you notice mold and mildew growing on your walls. When the sewer lines get damaged, the humidity inside the building increases. This results in mildew and mold growth even on walls that don't have any plumbing fixtures. Is there any discoloration on your walls? Are you seeing any strange-looking colors spreading from the bottom area of your toilet? If so, then you should schedule an appointment with a professional to have the problem checked.
Section of Lawn is Unusually Green
Our experienced team always advises business owners to watch out for super green lawn patches. Sewage has a way of boosting plant life. Any patchy lawn would be transformed into lush greenery if it gains access to enough sewage. If there are patches on your lawn where the grass appears greener than other areas, you should be concerned. This is a good sign that there's a sewer problem lurking below the grass surface.
Our team has the necessary experience required to interpret both common and uncommon signs of a damaged commercial sewer line. We use specialized tools and equipment to conduct professional assessments and to determine where all the problems are before embarking on the necessary sewer line repairs. The Sewer Surgeon serves:
COMMERCIAL SEWER REPAIR AND REPLACEMENT FAQS
When it comes to commercial sewer line repair, we realize our clients with businesses to run prefer to keep disruptions minimal. We achieve this goal with methods that limit the work area as much as possible and avoid significant surface disruptions.
WHAT CAUSES PROBLEMS IN COMMERCIAL SEWER LINES?
There are many factors that can damage a commercial sewer line. Some of them include:
Tree Roots: Since tree roots are always searching for the nearest water source, they tend to find their way to sewer lines. They first start by feeding off the moisture before extending further into the pipe. They grow until the whole pipe is blocked and will even break the sewer line pipes if they become big enough.
Grease: If your building has a restaurant, then you may find yourself requesting sewer line repair or replacement services more often. This occurs because they tend to send a large amount of food waste containing grease and fats down the drain and into the commercial sewer lines. These food compounds get stuck in the pipes and build-up, eventually clogging the sewer line pipes.
Water: Businesses tend to send larger amounts of water through their sewer lines. This pressure makes the pipes prone to leaks and can more easily burst, causing the sewer line pipes to experience more clogs and corrosion as well.
Flushing Debris: Occupants in the building may dump large debris down the toilets. This may lead to serious blockages and backups, necessitating a commercial sewer line replacement or repair.
AVOID!
Getting Commercial Sewer Line Repair or Replacement service from The Sewer Surgeon will help you avoid the following:
Nasty smell and discomfort
Flooding
Rodent infestation
Damaged walls
Expensive repairs
Close of business
GET A FREE ESTIMATE
We are more than happy to give advice and make recommendations on which solution is most suitable for your needs. If you need commercial sewer line repair & replacement services, don't hesitate to call for an appointment! We offer free estimates for all plumbing services and include written quotes. At The Sewer Surgeon, we offer competitive pricing all day, every day. Ask about our coupon specials, call us today at (855) 650-7867. Our team also serves Los Angeles, Orange County, and South Bay, CA.
Large Commercial Sewer Line Repair or Replacement Services are also available at SWE Underground. We provide: