COMPLETE SEPTIC PUMPING SYSTEM
If your sewer system is not connected to your home or business, it's likely connected to a septic system. Septic systems are typically located in rural areas without sewage systems. In fact, approximately 20% of homes in the U.S., use a septic system to manage their wastewater.
Although septic systems are relatively low maintenance, they do still require a septic pumping service. Maintenance is also necessary for septic certification and must also be recertified every time the property is sold.
Septic systems are carefully designed to efficiently break down waste. This process is safer and is actually more environmentally friendly than typical sewage systems. Bacteria are used in septic tank systems to break down waste into 3 layers using anaerobic. The three layers consist of sludge at the bottom, water in the middle, and grease on top.
Through the tank's design, the middle water layer makes up the largest section. This layer gradually drains into the ground. This process leaves behind the grease and sludge. If too much of these layers build up the bacteria will not be able to do its job. Septic pumping is needed to keep the tank from overflowing.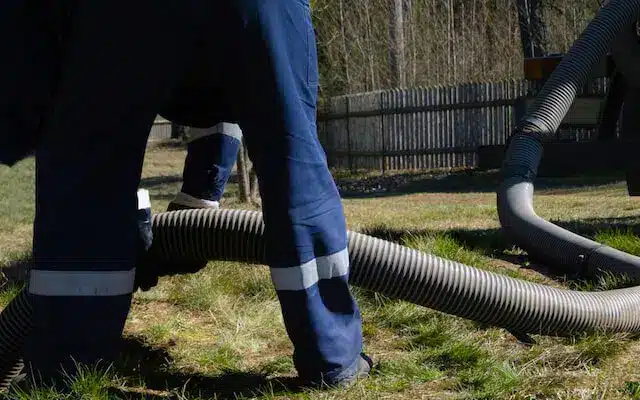 Inspect and Pump Frequently
On average a septic system should be inspected at least once every 3 years. There are other types of septic tanks that need to be inspected more often. Other more complex electrical and mechanical septic systems require more care and therefore should be inspected at least once every year. It's a good idea to have a service contract on these types of systems because they are more prone to breaking down.
There are four main factors that influence how often septic pumping is needed.
The Size of the Septic Tank
The Household Size
The Total Volume of Wastewater Generated
The Total Volume of Solids in Wastewater
Contacting a service provider and what to expect. It's important to keep maintenance records on any and all work that has been completed on your septic system. The service provider should list repairs, including the tank's condition and what other repairs may be recommended.
Whether you send it down the garbage disposal, flush it down the toilet, or pour it down the sink, everything that goes into your drains ends up in your septic tank system. So everything and anything that goes down your drains affect how well your septic system will work.
A single leaky toilet can waste up to 200 gallons per day. Septic tanks include a T-Shaped outlet, this is designed to prevent scum and sludge from exiting the tank. When the bottom of the scum layer is within 6 inches from the bottom of the outlet, or the top layer of the sludge is within 12 inches of the outlet, then your septic tank needs to be pumped.
When you call the Sewer Surgeon, the septic professional will check for leaks and examine the sludge and scum layers in your septic tank to determine if there are any other issues that may need repair. Whether it be to or from the septic tank.
Your septic tank is not a trash can. You should only flush toilet paper and human waste down the toilet. Tour septic tank is not a trash can and treating it as such will lead to problems with your septic tank down the road. Septic pumping can be more costly and problematic. Watch this video to learn more.
MAINTAIN YOUR DRAINFIELD
Your drainfield is a component of your septic system. It removes contaminants from the liquid that emerges from your septic tank, a very important part of your septic system. Here are a few things you should do to maintain it:
Planting: Never plant trees over a drainfield. Make sure you have enough distance from your drainfield to keep roots from growing into the septic system.
Placing: Keep your roof drains, sump pumps, and other rainwater drainage systems away from the drainfield area.
Contact a septic service professional for advice on determining the proper distance. Landscaping and the type of septic tank can determine proper distancing.
GET A FREE ESTIMATE
We are more than happy to give advice and make recommendations on which solution is most suitable for your needs. If you need septic pumping services, don't hesitate to call for an appointment! We offer free estimates for all plumbing services and include written quotes. At The Sewer Surgeon, we offer competitive pricing all day, every day. Ask about our coupon specials, call us today at (855) 650-7867.
Large Commercial Septic Pumping Services are also available at our Commercial Plumbing Services.