We're Whittier's Top Emergency Plumbers
Problems with your sewers, drains, or water heater? Get immediate support from our experienced plumbers in Whittier! We're experts in providing robust solutions for any plumbing trouble.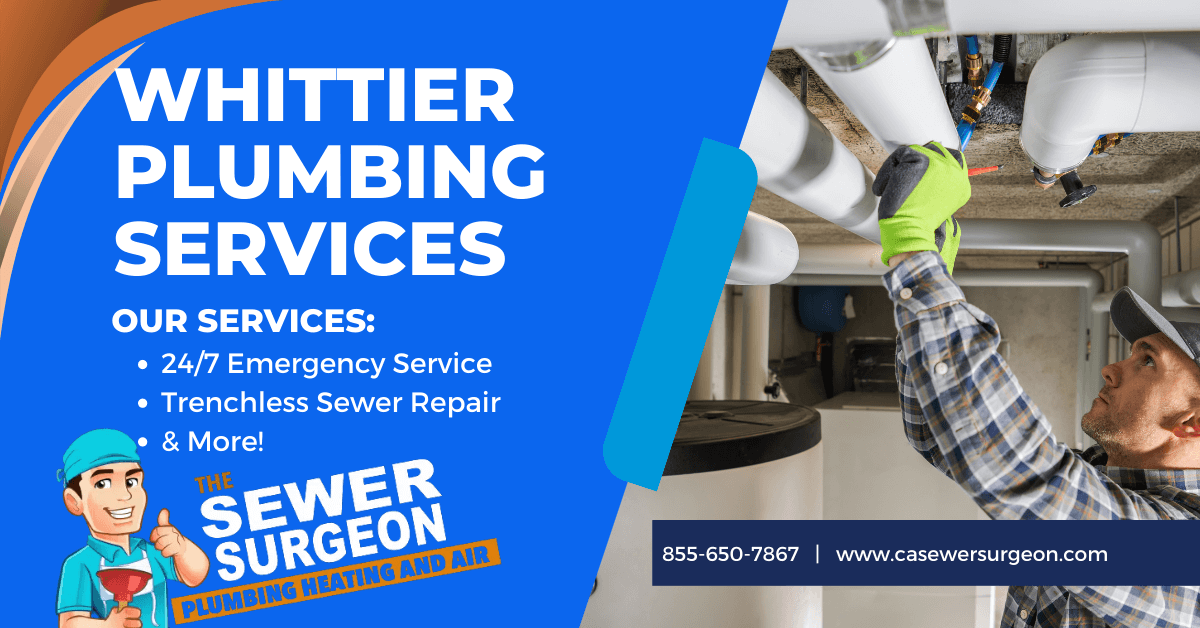 THE LEADING PLUMBER AND PIPE REPAIR SPECIALISTS IN WHITTIER, CA
Guaranteed satisfaction is what you can expect when you hire a plumber in Whittier, CA, from The Sewer Surgeon. Our courteous, OSHA-compliant and certified technicians use state-of-the-art technology and proven methods to accurately diagnose and resolve sewer, pipe, and drain issues promptly and cost-effectively.
Locally owned and operated, we're the company to call on when attention to detail is what's most important to you. Our service technicians have the skills and resources required to take on a wide range of tasks, from routine drain cleanings to more extensive pipe repair or replacement projects. Our experts also serve clients in:
OUR FULL SUITE OF SERVICES FOR RESIDENTIAL AND COMMERCIAL CLIENTS
If you're noticing foul odors, pooled water on your lawn, or other signs of a sewer problem, give us a call. We'll inspect your sewer lines and determine the most efficient and least disruptive way to make repairs.
One of the ways we repair sewer lines is with dig-free methods. Once the work is done, you'll have a fully restored sewer pipe and no big mess to clean up since there's no excavation work done.
Trenchless techniques can also be an option to repair water lines affected by years of use, tree roots, corrosion, or other common issues. Dig-free methods can also be used to install larger water lines without significant surface disruption.
Avoid the temptation to rely on risky DIY methods and call our drain cleaning experts if you're dealing with clogs, slow drains, bad drain odors, or other drain-related problems. You're also welcome to contact us to schedule routine cleanings to prevent unpleasant drain surprises.
You can also count on our team whenever you need:
Pipe Bursting
Point Repair
Septic Tank Cleaning
Emergency Pipe Repair
WORK WITH THE TRUSTED TEAM
Fully licensed, bonded, and insured, we're also proud to be locally accessible and committed to building lasting client relationships. Our sewer robotic certified operators and highly experienced technicians have installed over a million linear feet of new sewer. We're equally adept at making minimally invasive repairs when it's possible to do so. Choosing a plumber or pipe repair specialist in Whittier, CA, from our seasoned team also means you'll benefit from:
Upfront, flat-rate pricing
Guarantees on parts and work
24/7 assistance for emergency situations
TREAT YOURSELF TO A+ SERVICE TODAY
The Sewer Surgeon is the LA city-approved and bonded sewer contractor you can count on to deliver consistently dependable results. We'll gladly get you started with a free estimate or provide a complimentary second opinion so you can make a well-informed decision. Contact our team today to schedule your appointment.