COMMERCIAL TRENCHLESS SEWER REPAIR IN GLENDORA, CA, AND NEARBY AREAS
A sewer line can prove challenging to repair, especially when a layman is doing the repair. Most sewer lines constitute complex piping systems that require knowledge, skill, and experience to handle properly. For this reason, our team is dedicated to ensuring that one of the most important systems on your property, the sewer line, is fixed properly. While our competitors are stuck on traditional methods of sewer line repair. Our team is always ahead and up-to-date with the latest technology such as commercial trenchless sewer line repair. We are all about affordable modern-day plumbing solutions. Therefore if you are looking for a team of plumbers whose expertise in commercial trenchless sewer repair is top-notch, we are ready to solve your commercial sewer line problems in these areas we serve: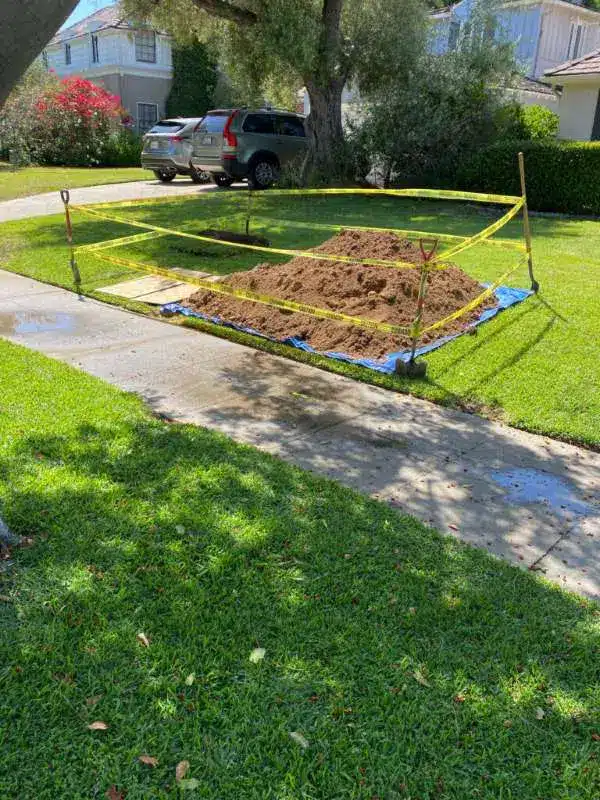 UNDERSTANDING COMMERCIAL TRENCHLESS SEWER LINE REPAIR
As the word trenchless suggests, commercial trenchless sewer line repair does not involve digging trenches. The service is aimed at creating a non-invasive sewer line repair. Therefore, instead of digging your property to repair the damaged sewer line, our team will arrive at your property ready to do a video camera inspection to better determine where the problem lies and whether or not a trenchless sewer line repair can be conducted within the sewer line.
The less surface that is disturbed during repair, the more time and money you save. The trenchless sewer repair process reduces the cost of replacing a sewer pipe and installs a better product in the ground than the traditional open cut or trenching procedures.
COMMON SEWER LINE PROBLEMS THAT REQUIRE TRENCHLESS SEWER LINE REPAIR
Cracked pipes
Over time sewer line pipes might crack due to various reasons. For example, roots growing inside a sewer line might eventually lead to cracking. Also, if sharp rocks find their way into a sewer line, the same might eventually lead to the pipes' cracking. Your property does not need to be dug up to access the sewer line itself. Our commercial trenchless sewer line repair service is meant to help you retain your property's ambiance while ensuring that the damaged sewer line is repaired, thus, preventing minimal if any property destruction to repair the leak or damage. We also provide trenchless sewer replacement for more significant issues.
Separated sewer lines
Sometimes an act of God like the natural movement of the ground can lead to the separation of sewer lines. Poor workmanship or installation can also cause the separation of sewer lines. If this happens, The Sewer Surgeon team will always be on standby to ensure quality service and that our pipe repair specialist will arrive on your property fast to prevent any additional damage to the property.
Unlike traditional sewer line repair methods, which require repair often, commercial trenchless sewer line repair is a technique you can trust will keep your sewer lines functional for years to come. If you have any sewer line problems, our pipe lining company can be there fast to help. Our availability is all around the clock 24/7 and our expert plumbers are dedicated to your complete satisfaction.
COMMERCIAL TRENCHLESS SEWER REPAIR FAQS
Commercial trenchless pipe repair is a highly flexible process. This means sewer lines of varying sizes and diameters and ones in many different locations can often be repaired with trench-free methods if conditions are right. We can also provide you with trenchless pipe replacement.
WHAT MAKES US THE BEST TRENCHLESS SEWER LINE PLUMBERS?
Our team is undeniably the most sought-after team of plumbers in the area. Our level of professionalism and work ethic has been proven through our service delivery. We can handle both small and large commercial trenchless sewer line repair projects within a very short period of time. We're aware of the havoc that a damaged sewer line can cause; that's why we work round the clock to ensure that any emergency is taken care of quickly.
GET A FREE ESTIMATE
We are more than happy to give advice and make recommendations on which solution is most suitable for your needs. If you need commercial trenchless sewer line repair services, don't hesitate to call for an appointment! We offer free estimates for all plumbing services and include written quotes. At The Sewer Surgeon, we offer competitive pricing all day, every day. Ask about our coupon specials, call us today at (855) 650-7867. We also serve clients in Los Angeles, Orange County, and South Bay, CA.
Large commercial trenchless sewer line repair services are also available at SWE Underground. We specialize in: