RESIDENTIAL WATER LINE REPAIR OR REPLACEMENT
WHAT IS A WATER SERVICE LINE?
The residential water line service is what brings water into your home. The city is responsible for fixing and maintaining the lines that go from the municipal water main and sewers to your property. The water lines that run from inside the home to the edge of your property are the homeowner's responsibility. Water lines can become more vulnerable, as they age, to the effects of freezing and thawing, mineral build up and ground movement. Tree roots can also affect water lines, when a water line is damaged by a tree root, it can cause reduced water pressure and the discoloration of your water. Damaged water lines can quickly lead to an emergency call to your local plumber so if you believe you may have a water line issue that needs repair or replacement, it's important to schedule a call with The Sewer Surgeon to inspect your water line.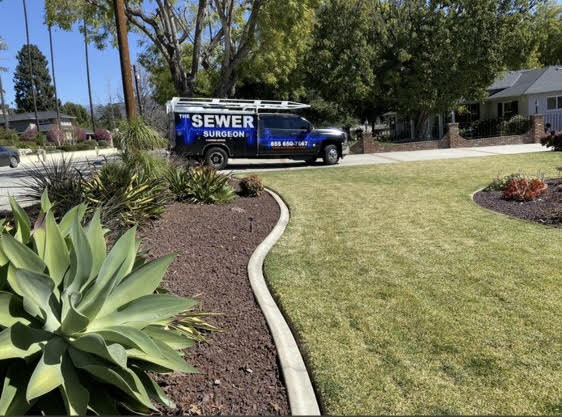 EXPERT WATER LINE REPAIR
While other services rely on digging up your entire yard to repair your water line. The Sewer Surgeon offers a much better solution. A low-impact solution for underground water line repair is our trenchless water line repair services. This option provides a lower cost solution. We'll determine if this is the best option by providing a camera inspection. This will help us pinpoint the exact location and cause of the problem before continuing on to this cost-effective water line repair.
TRENCHLESS WATER LINE REPLACEMENT CAN BE THE BEST OPTION IN THE FOLLOWING SITUATIONS:
Damaged or broken water lines due to movement
Pipes running underneath the home or underground
The need to increase the size of the water line to accommodate the household.
This is a less intrusive water line replacement method and a much better alternative to traditional water line repair or replacement methods. The Sewer Surgeon expert can quickly assess your water line situation and provide a repair or replacement solution based on the lowest cost solution.
WE MAKE WATER LINE REPAIR EASY ON YOUR HOUSEHOLD:
We'll save you time and money.
Our goal is to get water line repairs done the same day.
We'll maintain the cleanliness of the areas we work around.
When possible, we'll use non-invasive methods.
Our repairs conform to industry standards.
GET A FREE ESTIMATE
We are more than happy to give advice and make recommendations on which solution is most suitable for your needs. If you need residential water line repair or replacement services, don't hesitate to call for an appointment! We offer free estimates for all plumbing services and include written quotes. At The Sewer Surgeon, we offer competitive pricing all day, every day. Ask about our coupon specials, call us today at (855) 650-7867.
Large Commercial Water Line Repair or Replacement Services is also available.