RESIDENTIAL DRAIN CLEANING IN GLENDORA, CA, AND NEARBY AREAS
The Sewer Surgeon specializes in residential drain cleaning services for Southern California. We are a locally, family-owned business that thinks of our customers as family. We provide 24-hour service and can typically arrive at your home within the hour. Once our plumber in Glendora, CA, and nearby areas arrives, they will evaluate the problem and provide a Free Estimate. When approved, our experienced plumbers will quickly resolve the clogged drain. We serve:
Regular drain cleaning is a very important component of proper home drain maintenance. If a drain is not regularly cleaned it will eventually get clogged, making it significantly more difficult and more expensive to clean later on. Water that drains slowly has the potential to permanently damage plumbing fixtures. Furthermore, a clogged drain allows water to become stagnant allowing for germs and bacteria to build up, encouraging mold to grow. This can pose serious health issues to anyone living in the home, such as…
Asthma Attacks
Lung Damage
Serious Allergic Reactions
Not to mention, lower the resale value of your home. To prevent this, it's important that you contact a leading plumber in your area that offers drain cleaning services, including residential hydro-jetting drain cleaning. We also serve
Los Angeles, CA
Orange County, CA
South Bay, CA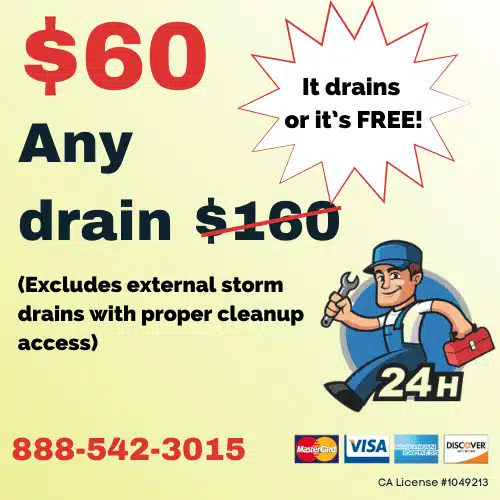 WHY CHOOSE THE SEWER SURGEON?
In addition to our commitment to excellent services, here are the other advantages we offer:
24/7 Emergency Service
Free Estimates and 2nd Opinions
Locally Owned and Operated
Work and parts guaranteed
Licensed and Insured
Upfront, Flat Rate Pricing
Friendly, Professionals
Sewer Surgeon's plumbing professionals are available 24/7 to perform routine drain maintenance, emergency residential drain cleaning services, hydro jetting, drain snaking, and residential sewer cleaning. Our drain cleaning services include storm drains, sewer drains, floor drains, and more. As a premier drain cleaning company, Sewer Surgeon is leading the industry in residential drain cleaning services. The Sewer Surgeon can address any and all clogged drains with our residential drain cleaning services.
Clogged drains that back up are a major headache for both homeowners and business owners. Our plumbers provide both residential and commercial drain cleaning services, addressing clogged… kitchen drains, bathroom drains, outdoor drains, and sewer lines 24 hours a day, 7 days a week. Call our drain cleaning company to learn more about our $60 residential drain cleaning service special.
RESIDENTIAL DRAIN CLEANING FAQS
As a general rule of thumb, we recommend professional residential drain cleaning in Glendora, CA, and the surrounding areas at least once a year. It can also be helpful to have your home's drains cleaned before busier times of the year, like the holiday season.
RESIDENTIAL DRAIN CLEANING SERVICES
GET A FREE ESTIMATE
We are more than happy to give advice and make recommendations on which solution is most suitable for your needs. If you need residential drain cleaning services, don't hesitate to call for an appointment! We offer free estimates for all plumbing services and include written quotes. At The Sewer Surgeon, we offer competitive pricing all day, every day. Ask about our coupon specials, call us today at (855) 650-7867.
Large Commercial Drain Cleaning Services are also available at SWE Underground. We specialize in: